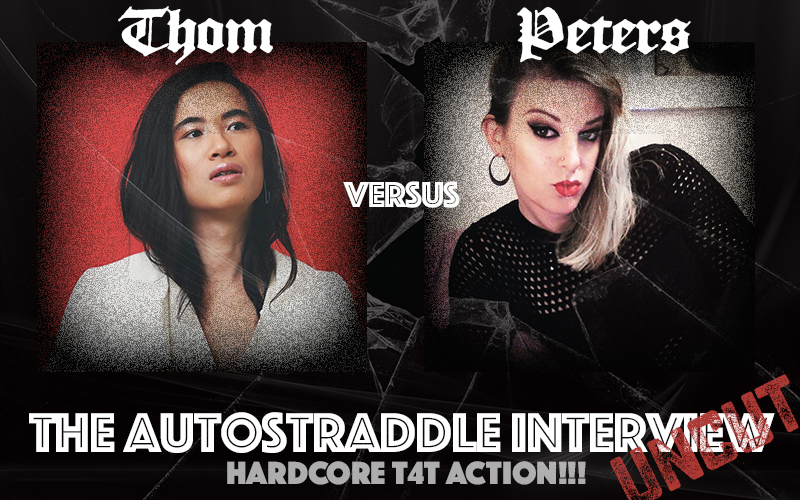 You've read the profile in Autostraddle, "(Trans) Love And Other Scars," by Kai Cheng Thom. Probably, you laughed, cried, and held your loved ones tight. But now…
Read the Uncut Interview
Kai Cheng Thom: Hi! How would you like to be described, if at all, in a review of your book? As in, pronouns, occupation, hobbies, quirky adjectives, identity categories?
Torrey Peters: The boring version, trans woman, she/her, living in Brooklyn, but born in Chicago. If that is too boring, in my twitter bio, I call myself a "childless transsexual soccer mom as imagined by David Lynch."
How would you define the following words: Woman, transfuturism, gender
Badly, I'm sure.
What is your favorite article of clothing or food and why?
I believe there is a slutty romper in the world for everybody, of every body type. I finally found mine: black cotton stretch with cutouts on the sides. I saw it in the window of a bebe and knew we would be together forever.
Would you say you belong to a community or communities? Which?
This is a hard question for me, and so I will answer it in the way that I do whenever I encounter something that troubles me: pretentiously.
Basically, I'm not sure I believe in the idea of community, or at least I don't believe in community as the uniformly positive thing it's often presented in celebrations of, say queer community. As I understand it, the word community has its etymological origins in the Latin noun "communitas," which is related to the Latin word for "fortifications." In this conception, community is the people living in fear, huddled together and fighting off the barbarians beyond the wall, united by an inability to leave, and an obligation to keep the fortifications strong.
As you can guess, Latin speakers 2,000 years ago held community to be a largely undesirable idea. The ancient meaning of communis as a verb was "to share an office (carica), a burden (carico), a task (incarico). Communitas is the totality of persons united not by a "property" but by an 'obligation or a debt.'" I see hidden traces of this ancient undesirable phenomenon in modern queer and especially trans community, with the way people treat each other, especially online—all the excommunications and ideological purity tests and the sense that because there is no where else to go, people can treat each other badly. Community, for me, has often seemed to become about the burden of being trans, and the injunction to huddle with others behind the fortifications in a siege mentality.
Meanwhile, etymologically, the ancient antonym of community in lies in the word immunis and the noun immunitas—those who are exempt from a burden or debt. From this comes phrases like "diplomatic immunity." Immunity to the rules and burdens of a place.
As a trans woman, I find the idea of immunity rather than community appealing. What I just didn't give a fuck? What if my baseline was ethical treatment of everyone, but what if beyond that, I get to choose my responsibilities and affinities for myself, rather than having them thrust upon me?
So all that said, I tend to think about my associations and the people I want around me in terms of an immune affinity. Who, regardless of usual identity categories, makes me feel loved, and capable of loving myself? Yet, in conception of immune affinity rather than identity-based community, I still almost always prioritize keeping my company with other trans women. And from the outside, this might look like community. But I find crucial the distinction of choice over burden; the knowledge that I can safely fuck off to elsewhere if I so choose. I hang with trans women because I love them and understand them and want to care for them, not because I was somehow cosmically assigned to be responsible for them. I hope those women feel the same about me.
What is a piece of literature, music, or art that has impacted you very strongly? Can you describe it?
I'm pretty moody in what fascinates me. The saavy PR move would be to list some works by other trans girls. But right now, I'm reading Elena Ferrante's Neapolitan novels, and ugh, it feels like they are changing everything for me, and they are all I want to talk about. Ferrante's protagonist, Lenu, writes in this fiercely, almost alarmingly clear-eyed way, at the same time that she somehow communicates how opaque she is to herself. It's funny that as a single itinerant trans woman in her 30's, I so identify with an anonymous Italian woman in her 60's writing about poor cis women in 1950's Naples and their husbands and children. But I feel like if I'm ever going to write well about trans women, and our love and friendships and rivalries with each other, I'm going to have to learn to be just as terrifyingly clear-eyed and honest as Lenu, at the same time I make obvious how mysterious my own motivations often are to myself. I lived as a married adult man for most of my twenties, and during that time, I honed a pretty sharp ability to lie to myself. Learning to simultaneously depict a character's opacity and coping mechanisms alongside moments of brutal honesty and self-knowledge has been one of my central projects, and until, Ferrante, I'd never encountered any writing before that so neatly solves that contradiction.
How did Infect Your Friends and Loved Ones come to be?
I originally wrote it for the forthcoming Topside Press Trans Speculative Fiction Anthology, but it kind of became it's own thing. Still, I owe Casey Plett—the author of Safe Girl To Love a lot of thanks for helping me to edit it back when she thought it was going to be in the anthology.
Is there an intended or ideal reader for the novella?
It's def for other trans girls. It's about being a trans wants to figure out how to relate with other trans women in ways that don't feel so fraught that our anger might end the world.
Political satire, wry cynicism, and sharp humor characterize matched with highly resonant emotional honesty characterize your writing (or the pieces that I've seen, anyway!). How did you develop this style? What role do you think humor plays in your work?
I want to be honest. I want to write stories that could have helped me before I've experienced the drama I've been through, and so really blunt depiction is important to me. I want people like myself to recognize themselves in it, which means I'm sometimes blunt to the point of bracing. So I think a lot of the humor is actually about love. Here I am saying these really unvarnished things, and the only way to show I am saying them out of compassion is to laugh at myself and about how the awful things that aren't supposed to be said are actually funny and ridiculous.
You chose to self-publish this novella, as with previous works such as The Masker, stating that "traditional publishing does not serve trans women," which is a statement I both agree with and admire. Could you elaborate more your thoughts on this? How did the choice to self-publish shape the development of the book?
There's two ways that I mean that. The first view, and I'm hardly the first to make this observation, is that the publishing industry isn't interested in imagining a trans audience. They are interested in presenting trans people to a cis audience.
But I think the second way is especially about my own project. I mean, as recently as yesterday even, someone pointed out some new typos I hadn't noticed in The Masker. I knew there were typos, but here are some new ones. And in fact, I don't care and I'm not going to bother to correct them. Because, the entire project was about showing that there's no barrier to access to emotionally move people. You don't need a perfectly clean text, you don't need an editor, you don't need a press, all you really need is a will to write and an account with some self-publishing platform. The idea that you need a perfectly polished text to produce a work of art that people care about is a kind of gate-keeping. How many trans women have been denied on these kind of grounds? Who have told their stories in styles, languages, forms, or about subject matter that would speak to others like themselves, but which editors aren't positioned to understand? Those stories are important.
My first novella was about sissy culture, and repurposed the arc of the forced femme erotica. That's a story that editors aren't going to get, but countless trans girls will, and unlike presses, I know where the sad closeted sissies hang out, I can prioritize them as readers, and I can (and did) get my art into their hands way better than any publisher I know.
The other benefit to self-publishing was that I can advertise that I give away digital copies for free. No publisher would let me do that. I value readers more than profits, and given the chance, will always maximize my readership over my profits. The publishing industry as a whole is in trouble because they do the opposite.
Could you describe the most challenging aspect of writing Infect Your Friends and Loved Ones?
Letting the narrator, who resembles myself, be as much of a complete bitch as she needed to be for the dynamic between her and Lexi to work. It meant writing empathetically from the parts of myself that I know are haughty or insecure or self-congratulatory. To pull from the moments of failure in my life, without letting the benefit of hindsight make those events rosier or more sympathetic.
Trans authors who explore themes of gender, as you do in this novella, are often "pegged" or "pigeonholed" as being solely politically (rather than artistically) motivated. Have you found that this has affected the book in any way?
I don't think so, largely because my characters are somewhat unsympathetic and disrespectable. If you wanted to make a political argument, these characters would be pretty flawed avatars for it. The work of the book for me, was trying to understand my own complicated relationship with other trans women. The ways that we destroy each other, even as we love each other. That's a political project I suppose, in the way that the personal is always political, but generally, I think people accuse or pigeonhole authors as "political" when they feel an author is positively representing an entire group or experience or making demands on their behalf. Most of my writing is intra-trans. I'm usually talking to other trans girls as an individual, and those other trans girls understand, from the idiosyncrasies of my experience and thoughts, that I don't offer any kind of universal trans representation. My problem is almost the opposite. With something like The Masker, which dealt with sissy fetish culture, even trans people are sometimes like, "This is just Torrey, okay? It's her weird shit, it's not universally trans and doesn't represent us."
What is your favourite part of IYFALO?
I'm very happy with two scenes that bookend Lexi and the narrator's relationship, both scenes that take place in shacks that Lexi lives in, the first scene in winter, and the last, seven years later, in the summer. Even though they are not the first and last scenes in the novella, they are the first and last scenes I wrote in its composition. 
When did you begin to write? Whom do you write for?
I began wanting to be a journalist. In my early twenties, pre-transition, I believed something that is almost the opposite of what I believe now: that the work of journalism is good, because journalists know how to tell people's stories, and could present and package people's stories for them to get them wider exposure than they could get themselves. But I was living as a white guy with a college degree when I thought that, and I thought that the "correct" way to tell stories was the way I learned in college, and I imagined a white educated readership as the ideal audience to which I should appeal. I still think I thought that when I got an MFA at Iowa, which held itself up as a pinnacle of a kind of publishing and writing. Iowa wasn't totally my fave, which meant some of my surety began to crumble when I was surrounded by the institutions that those ideas had wrought. By the time I transitioned, and found myself in a marginalized group, with journalists like the ones I once aspired to be, telling my story for me, to white educated cis readers, and how awful that felt, I had a period of horror at previous incarnations of myself and didn't write at all for about five years. Now I try to facilitate other people feeling like they have a right to their own stories, just as I insist that I have a right to my own—middle-class white trans girl that I am. And I hope that for every one of my stories that I tell, there are hundreds of people different than I telling their stories. Which is also why self-publishing is important to me. I am not taking anyone else's space and the spaces are not limited.
Have you had any writing mentors/strong influences?
I had a period of time writing with/around/under the influence of the writers and publishers of Topside Press, though that period came to a close as I was publishing The Masker. Other than that, the best teachers have been books.
Do you have any words for trans women who want to write?
Yes. Write what is missing in the world. Write the stories that could have saved you and weren't there for you. I promise that you will have readers.
Trans women who are in the public eye as writers and artists are often expected to represent or speak for trans women politically. Have you ever felt this expectation placed upon your work? If so, how have you responded to it?
Yah. I kind of spoke to this in an earlier response. I think Trish Salah called "The Masker" anti-positive-representation. In my books at least, I show very little concern with respectability, and a lot of disrespectability, and as a result, I don't think people choose my books to represent trans people. I think if anyone, beyond maybe trans women with my particular history (having done weird porn, sex work, etc), depicted trans women as I do, that person would be accused of transphobia. So nobody who gets me asks me to represent anyone but myself, which is really a relief and an honor, though I have not yet received many invitations to speak on the lucrative the trans-activism speaking circuit.
To come back to the notion of self-publishing as a political act, and one that you champion, what are your thoughts on the current state of trans lit and publishing today? We are starting to see the emerge of several new indie presses, including Topside, Metonymy, Trans-Genre, etc, each with their own political and literary agendas. We have also seen movements such as the Trans Women Writers Collective explicitly reject the mission of presses like Topside. Where do you place yourself in all of this? How do you think trans women can create opportunities for ourselves to create and support each others' creations?
Here is why I like self-publishing: the bar for entry is really low and it's available to anyone who wants to do it. My initial outlay for The Masker was 300 dollars, which included an initial print run, a website, a subscription to the Adobe suite, and a subscription to Lynda.com where I learned the skills to lay out the book and website. I made back that 300 dollars in the first week after publishing The Masker. Anyone can do this. An outlay of 300 dollars is not a prohibitive amount, even for super poor trans women, once you lose the idea that you are entitled to someone buying and publishing your book for you. The costs of self-publishing are even cheaper when people work together. You don't need anyone's permission to publish. There can be an unlimited number of trans books published each year. The limit is only how much people want to write and work to figure out the work of self publishing.
My thoughts about both Topside, and the criticism of Topside by members of Trans Women's Writer's Collective is that they function on the assumption of a scarcity model. Topside books are edited, by editors, who work for free, with a limited budget and number of available hours. So if one has to go through a press like that, there are necessarily a limited number of spots, and the result is anger about who gets published and who doesn't. The fun of writing and publishing is in making things. I kind of don't care who you are, the particular intersectional identities at work—making shit with your friends is awesome and you can do it, and you don't need anyone to do it for you. I will always advocate this. The more voices at work, the less the impression of scarcity, and the more freedom each of us have to tell our own story without feeling like we are crowding out others.
Also important here: There is this idea out there that artists should get paid for their work. Um, maybe I can see an argument that people need to be given equal pay for opportunities given? But that artists are entitled to payment? Not so sure.
I subscribe to Lewis Hyde's idea of art as gift. Creating art in order to get people to do things for you (like pay you) is advertising at best and propaganda at worst. If people offer you compensation as thanks for a gift, fine, I guess. But not as a capitalist transaction.
The notion that you should get paid enough to call it a career, for the honor of readers offering you their attention and time, is a historical accident and anomaly of post-war capitalism in the West, which turns everything into a commodity. That is an anomoly that is fading. Historically, only a tiny fraction of a population made any money drawing pictures or singing or writing. You did it because you loved it and because you felt an urgency to say things. It wasn't a career.
When I manage to disabuse myself of the dream of a career as a writer (which I don't always manage to do) my opportunities suddenly multiply and my art gets better. I can write about sissies. I can write about bug-chasing. I can write about trans women fighting and hating each other. When I lose the expectation that anyone is going to pay me, the flip side becomes that I don't owe anyone anything. In a world where I don't have to please for cash, the story of say, my weird trans fetishes can be written just as easily, and with the same feeling of importance and consequence, as say, the story of some dude named Ishmael watching a bastard fail to kill a whale.
Trans women lack access to the publishing world, it's true, and there are a limited number of venues with the mission of publishing trans women. But the mistake was in our thinking that publishers might be required to give each other art in the first place.
The best part of writing is _____ and the worst part is _____:
To paraphrase Gertrude Stein, the best part of writing is having written and the worst part of writing is actually writing.